Would you get the Motorola DROID Turbo instead of another flagship smartphone?
53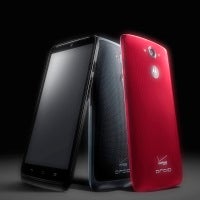 Motorola and Verizon is a combination that could have only possible outcome - an epic Android smartphone. The Motorola Droid phones, rare as they be, are the Alienwares of Android devices. They have that hyped, aggressive "gamer" look, and the specs to match. The latest addition to the line-up is the freshly announced Motorola DROID Turbo. It is exactly what you'd expect it to be.
For starters, it's full to the brim with the most potent of 2014's smartphone hardware - the sharpest screen on the market, an immense 2.7GHz quad-core Snapdragon 805 processor with 3GB RAM, a monster 21MP main camera, and a battery you can charge in just 15 minutes for up to 8 hours of usage.
Impressed already? There's more where that came from. The Motorola DROID Turbo is built of extra-durable materials - a triple treat of metallized glass fiber, kevlar, and water-resistant coating - that is just as tough as it looks. The icing on the cake are the Moto App functions - the Moto Voice assistant, Moto Actions gesture control, and Moto Display for smart notifications.
2014 was an year of amazing devices, which means you've probably chosen yours already. Then again, it's almost time for Christmas! And the Moto DROID Turbo is hot - it is the most tricked-out Android smartphone ever. Would you like to have that, or you're more attracted to other respectable smartphone contenders from, say, Apple, Samsung, Sony, HTC, LG, Huawei, Nokia?