Windows Phone to get refreshed Office, Microsoft may make official announcement on January 21st
22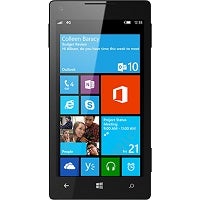 Microsoft has been putting a lot of effort in expanding the reach and availability of its standard bearing products like Office, notably releasing mobile optimized versions for iOS and Android while its native mobile platform, Windows Phone, just sort of chills in the corner waiting its turn for some updated goodness.
Windows Phone is not alone, a touch-optimized version of Office is still in a holding pattern for Windows-based tablets.
The big splash Microsoft made was releasing
Office for iPad
, then tweaking it a bit so that at least the basic functionality could be managed without forcing the user into an Office 365 subscription. Then,
Office for Android
tablets was announced, but was only initially available through a registration request during the Beta, and there should be a general release early this year.
When will Microsoft give some of its own Windows platforms some love? Well Joe Belfiore, Corporate Vice President at Microsoft took to social media to reaffirm that the Office team "has not forgotten Windows Phone." Though, he did not announce that on Facebook or Twitter, but on his Chinese Weibo profile.
The image is a little small, so here is the text of the entire message:
Hey fans of WP … as I'm celebrating New Year's Day here in the US and as you all move into the Chinese New Year season, I wanted to send an early "HAPPY NEW YEAR" and thank you for your ongoing support!

First… as we end our 2014, I want to acknowledge the comments and letter you all have sent, noting that you've been frustrated seeing Microsoft launch new applications like Office on iOS and Android, without accompanying news around what will happen on Windows Phone. I want to assure you that our Office team has not forgotten Windows Phone – we're just aligning all of our news and announcements to a single event. You'll hear much more about what we have planned before Chinese New Year.

Second… my team in China has finally endowed me with a Chinese name: [...] is north of Beijing and […] is summit of mountain. The two together in Bagua means "modesty creates success."

I'm excited about the new work and new software that's coming in 2015. Our team in China has been writing features specifically for the China market, and you'll get a chance to see a few of these in the coming months.

Happy early New Year!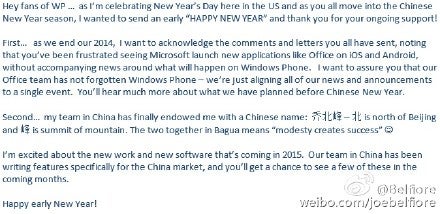 While Joe's letter does not provide any specifics, it is entirely possible we will learn all the details at an analyst meeting set for January 21st in Redmond, where Microsoft executives will outline a number of consumer-oriented features coming to the new version of Windows.
Taking Joe at his word, we will definitely learn something before February 19th because that is when the Chinese New Year begins.
sources:
Weibo
via
Softpedia