Windows Phone 8.1 to allow one-minute Live Tile updates, references to the next WP 8.5 found in the SDK
26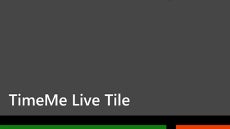 Microsoft is about to announce its Windows Phone 8.1 update next month, but it seems that the software giant is already working on the next step, referred to as Windows 8.5. This info comes again straight from the infamous
WP 8.1 SDK that Microsoft released to developers
, so they can start updating the old, and prepping new apps, for the next version of Windows Phone.
A tooltip from the emulator clearly warns developers that secondary live tiles may not be available when Windows Phone 8.5 hits handsets. This may be due to upcoming changes in the particular API itself, or it may hint at the
rumored thorough overhaul of the tiled interface
in the next major revision of Windows Phone.
In addition, the developer found out that, come WP 8.1, the Live Tiles will allow updating the info on them in one minute increments, rather than the 30 minutes that are in play now, which is too lengthy. Microsoft's BUILD developer conference starts on April 2nd, so it's less than a month before we get all the new features of Windows Phone 8.1 demonstrated.