Windows 8 RTM walkthrough video
33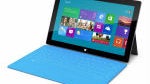 Windows 8 has gotten a final version that has been released to manufacturers (RTM), and there are a couple of new visuals and features, but overall the system will look very familiar to anyone who has used the Windows 8 beta. Of course, this is the full version of Windows 8 being run on a tablet, and not the more limited Windows RT (which can be confusing when talking about RTMs).
The OS looks ready to go though. All of the theme options are running, the Start screen has new background options, and the music and video marketplaces are all looking good. The video even walks through a bit of the desktop environment, and obviously some of the new perks like the Charm menu and new sharing options.
The only thing is that the tablet it is being run on does look pretty bulky and heavy, which seems to be a trend with Windows 8 tablets. Even one of the lightest reported Windows 8 tablets (the
Samsung Series 7
slate) is still half a pound heavier than the Asus Transformer Infinity, and about .4 pounds heavier than the new iPad.