Windows 10, the new HTC One (M9) leaks, and the latest Galaxy S6 rumors: weekly news round-up
2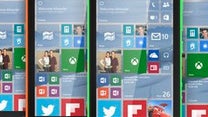 Once again, it is time for our weekly news round-up – a post where we've put together the most interesting stories from the past seven days. Among them are the latest leaks and rumors surrounding the highly-anticipated HTC One (M9) smartphone. In case you've missed them, we now have images of what the phone is expected to look like, and it seems that HTC has chosen to drop its UltraPixel camera in favor of a new, higher-resolution one.
Speaking of cameras, the Samsung Galaxy S6 is likely to be getting an upgraded camera as well. What's not so clear about the phone, however, is which SoC will tick under its hood. Some say that issues with the Snapdragon 810 might cause Samsung to go with a different chip, at least at launch.
In other news, Microsoft gave us a thorough preview of Windows 10 during its recent media event. We got to see what tricks the new OS version will be able to perform on both desktops and smartphones. We even got a hint that new Windows-based flagship smartphones are coming later this year.
Flip through the slideshow below for more on last week's most exciting news.