Win the complete Sony Xperia Z3 series and a Sony SmartBand Talk, directly from Sony
17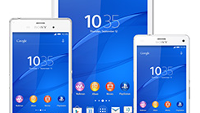 How about this for a major haul. Sony is running a easy to enter contest, and the grand prize is the complete Sony Xperia Z3 series and the Sony SmartBand Talk. That means the winner will receive the freshly unveiled
Sony Xperia Z3,
Sony Xperia Z3 Compact
, the
Sony Xperia Z3 Tablet Compact
, and the Sony SmartBand Talk.
To enter the contest, all you need to do is click on the sourcelink, and follow the instructions. You will be asked to answer a simple question, pertaining to a video about the products that you can win.
Imagine winning not just one of Sony's hot new Xperia Z3 devices, but winning all three! And you also will receive the SmartBand Talk. Which phone would you use as your daily driver? We should all have such problems. And with the phones and tablet all IP68 certified, you can submerge any one of them into 4.92 feet of water for up to 30 minutes, without causing any damage at all to the three devices.
The contest shouldn't require more than a minute or two to enter. That is certainly time well spent, especially if you win.
source:
Sony