WhatsApp getting GIF support soon
4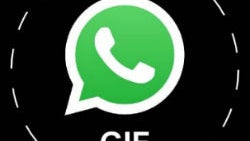 GIFs are quickly becoming the best way to have a conversation on the internet. Emoji are inscrutable. Voice is for suckers. Plain text is just boring. But, GIFs convey everything. WhatsApp apparently knows this, so there is an update in the works that will automatically display and play GIFs that you paste into a conversation.
The new feature was outed by @WABetaInfo, a Twitter account that keeps tracks of changes in the WhatsApp beta updates. According to the account, version 2.16.7.1 of the WhatsApp will embed GIFs from links into conversations and autoplay them as well. However, supposedly it only works with GIF links. If you try to share a GIF image directly from your device, it won't play. Additionally, you'll be able to convert a GIF to a simple image, because there's nothing better than a GIF that doesn't animate. That is strange.
It's not quite as good as the
Gboard iOS keyboard
which allows for searching for GIFs, or having proper
Giphy
integration, so you'll still need to have a way outside of WhatsApp to find the GIF you want. But once you have the link, it'll be a very nice addition to your conversation within WhatsApp.
No word on when to expect the update to hit, but if it's in beta now, it can't be too long.
Recommended Stories