Wedding photographer rants against iPhones at weddings, goes viral
33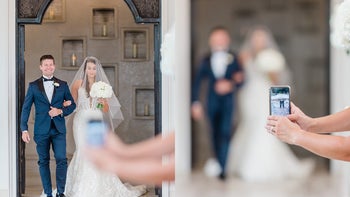 Smartphones cameras have improved a lot in the past few years and under certain circumstances, they could even replace a professional camera. Those circumstances, however, definitely do not include taking out your phone for a quick snap and blocking the view of a professional photographer hired at an event, but that is exactly what one girl decided to do, almost ruining an important moment at a wedding.
Hannah Stanley, the hired wedding photographer, was just about to get the money shot of the father walking his daughter down the aisle when suddenly an iPhone entered her frame, ruining the shot. She could eventually adjust to get the shot, but almost missed it.
The professional photographer then ranted on Facebook, urging people to enjoy the moment rather than live it via a digital screen, capturing photos they will definitely not use much after taking them.
To the girl with the iPhone...
Not only did you ruin my shot, but you took this moment away from the groom, father of the bride, and the bride. What exactly do you plan on doing with that photo? Honestly. Are you going to print it out? Save it? Look at it everyday? No. You're not. But my bride would have printed this photo, looked at it often and reminisced over this moment as her dad walked her down the aisle on her wedding day. But instead, you wanted to take a photo with your phone, blocking my view, and taking a photo that you will not use.
Guests, please stop viewing weddings you attend through a screen but instead turn OFF your phone, and enjoy the ceremony. You are important to the bride and groom, you would not be attending the wedding otherwise. So please, let me do my job, and you just sit back, relax and enjoy this once in a lifetime moment.

Sincerely,
Wedding photographers
And yes, while banning smartphones at weddings is probably not the best idea, using them more conscientiously definitely is.
Recommended Stories