Weather 360 + widgets & clocks app brings new blood to your dusty homescreen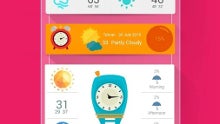 There is no shortage of weather apps out there, to the extent that Google even created a separate category for them, so when one dares to enter this world of cutthroat competition in the field, the developer might be on to something. Weather 360 is not the most ironed-out application on the matter we've seen recently, clad in a pretty material design, with a vast number of widgets to choose from, plus numerous theming, animations and framing options.
While Google's Material Design is the overarching artistic credo with Weather 360, making it flat and colorful to look at, the devs have created numerous sizes and shapes of the accompanying widgets to choose from, too. Not only that, but all the functionality you expect from a rich weather app is present, save for moon phases, which the developer promises to bring at a later date.
Weather 360 also adds toggles for system settings and system info to its widgets, as an all-in-one package to enhance your homescreen's information and interaction efficiency. The app is still a bit rough around the edges, but let's not forget this is a beta, and the potential is yet to develop fully. Check it out from the source link, if you are interested.
| | |
| --- | --- |
| Developer: 6thSolution | Download: Android |
| Category: Weather | Price: Free |