Watch the Samsung Galaxy Note 10.1 (2014 edition) rock London
5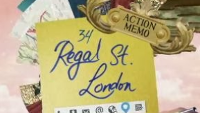 Back in October,
we showed you a promotional video
released by Samsung for the
Samsung Galaxy Note 10.1
(2014 edition) tablet. But that video was dry turkey compared to the ride Sammy takes us on with its new video. Much shorter than the length of the earlier video, we get to see the tablet used by a (fictional?) rock-band on tour in London.
The real title of the video should have been, "How many features can we jam into 48 seconds" Air Command is opened so that an Action Memo can be written. These quick messages can be sent out to to your friends and family, or just used as personal reminders. One of the band members is wearing a Samsung Galaxy Gear smartwatch of course, which was used to take pictures of his band mates, used on the slate's Scrapbook feature.
Which band member is the most popular? Easy Chart helps create a pie chart showing that Edward is the fan favorite. And of course, Multi-Window allows two apps to be used at the same time. As for the song playing in the background, let's just say it probably will be an acquired taste for some. The Samsung Galaxy Note 10.1 (2014 edition) is the real star of the video, which apparently is being played in Piccadilly, London, Ramberandt, Amsterdam and Orchard Road, Singapore. Check it out yourself by clicking on the video below.
source:
SamsungMobile