Watch the G Flex 2 get dropped, run over by a 10-ton roller
7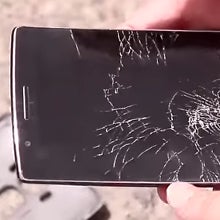 The
LG G Flex 2
has an intriguing curved design that allegedly makes it harder for the screen to shatter when dropped face-down. It retains the 700mm curvature radius of its predecessor, but LG went to great lengths to ensure the phone is way more compact, introducing a smaller, 5.5" display, and thinner bezels all around. Not only that, but the arched back cover can be pried off now, revealing a microSD slot for storage expansion - a marked improvement over the sealed
G Flex
original.
The
LG G4
also has an arched design, but
it went through its fair share of drop tests
, and those didn't result in any remarkable durability when the phone is dropped face-down. The G Flex 2 hasn't been dragged through much torture so far, though, plus there are so many variables in a drop test, that you can rarely grasp how your particular unit will behave from one. How about running a 10-tonnes roller over it, however? Will the curved design survive the pressure? Check it out.