Want to switch from an iPhone to a Google Pixel? There's a Quick Switch Adapter for that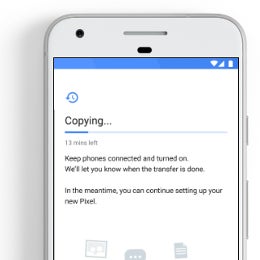 Google seems to be very proud of the
Pixel
and
Pixel XL
, its brand new smartphones
announced earlier today
. So much so that it created a special accessory that will allow users to seamlessly switch from an iPhone or an older Android phone to any of the two
Pixel
handsets. Called Quick Switch Adapter, the accessory is nothing more than a small piece of hardware that plugs into the USB Type-C port of a Pixel or
Pixel XL
, then allowing you to connect to an iPhone or another Android handset via their own cables.
Once you've connected your old phone to a Pixel, you just have to follow the instructions on the screen to transfer your data. The Quick Switch Adapter is compatible with "most phones running Android 5.0 and up, and iOS 8 and up." Thus, you won't be able to move your data to a Pixel phone if you have a device running an older version of Android or iOS.
Quick Switch Adapters are offered for free, being included in the retail boxes of all Google Pixel and Pixel XL handsets. You can find out more about how to switch to a Google Pixel at the source link below.
As a reminder, the
Pixel and Pixel XL can be pre-ordered
starting today in the US, Canada, UK, Germany, and Australia. Is anyone here planning to make the switch from an iPhone to a Pixel? We'd love to hear from you!
source:
Google