Wake up with your favorite music thanks to the alarm clock on Pandora following its iOS update
4
With an update to the Pandora for iOS app, music lovers can now get awoken in the morning by their favorite song. The update, now available from iTunes, includes an alarm clock. If you need a few extra minutes, hit the snooze bar. And the new sleep timer lets you listen to music for a pre-set amount of time before the app is turned off. You can fall asleep while listening to Pandora and use the app to wake you up as well.
The UI has been updated to match iOS 7 and some minor enhancements have been made to improve your "
listening experience
". Let's return to that alarm clock for a second. Because it plays music from your favorite station, you can either hear a different song each day from your favorite artist, or something from the same genre.
How many of you are tired of a jarring alarm that shocks you out of a pleasant dream? All you need to do is update the Pandora app on your iPhone or iPad and before you know it, you'll be gently awoken each morning by songs like Third Eye Blind's
Jumper
.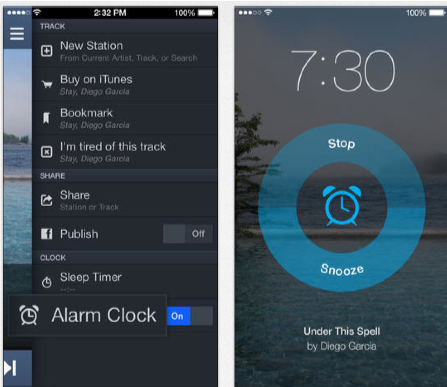 Update the Pandora for iOS app and you will have an alarm clock that can wake you up to the strains of your favorite artist
source:
Pandora
via
TUAW