WP7 commercial focuses on Xbox LIVE connectivity
1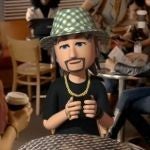 We should keep a counter on our homepage that tracks how much money Microsoft is spending on their Windows Phone 7
marketing
. After playing up the live tiles, and the quick-access interface, Microsoft is now taking a stab at promoting their Xbox LIVE integration.
The commercial focuses entirely on
Xbox LIVE
, with an avid gamer trying to hide his game-playing from his girlfriend. But his avatar gives him away. All right, Microsoft, you've got our attention.
After all the generic introductory ads, it looks like Microsoft is starting to target the niche markets. Still, we think they should have mentioned that you can earn Achievements while playing on your Windows Phone 7 device. Tell us what you think. Did this commercial speak to you, or was it too goofy?
source:
@windowsphone (YouTube)
via
WPCentral