Virgin Mobile with a new $25 unlimited plan and 3 new phones
32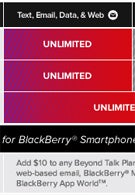 Seems like Virgin Mobile is about to roll out a new Beyond Talk set of pay-per-month plans, which all include
unlimited text, email, data and web
. The cheapest one will cost you
$25 per month
, and it packs 300 Anytime minutes. Then you have the $40 plan with 1200 Anytime mins and finally the all unlimited plan, which comes at a price of $60 per month.
The carrier is also planning to launch 3 new phones - the
LG Rumor Touch
, Kyocera Loft (candybar with front-facing QWERTY keyboard) and the uber cool
RIM BlackBerry Curve 8530
. However, if you want to snatch the BlackBerry, you'll need to add $10 on top of the Beyond Talk plan you've picked. Prices for the phones seem to be as follows: $70 for the Kyocera Loft, $150 for the LG Rumor Touch and $300 for the BlackBerry Curve 8530. Of course, the Beyond Talk plans will work with Virgin's other offerings too.
So there you have it - a new tempting offer by Virgin - $25 for unlimited text, email, data and web. The only thing that's left now is for Virgin to launch it, hopefully soon.
Thanks, anonymous tipster!