Vimeo app now available at the Apple App Store with Android version in the works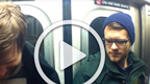 Video sharing site Vimeo has a app now available as a free download in the App Store for users of the Apple iPhone, iPad and iPod. With the app, users will be able to view all of their existing Vimeo videos, upload raw or edited video in HD or SD, and pause/resume videos where you left off. If you have a video on pause, you can arrange to receive a reminder that you didn't finish watching the video.
The Vimeo app also allows the user to edit titles, tags and description and lets the video get shared among a few social networks like Facebook, Twitter, Tumblr and WordPress as well as getting passed around through email and text messages. Those who upload videos will be happy to know that they can view stats and information about the number of times a video is viewed along with comments written about your masterpiece. An easy to use video editor will help you add transitions, titles, and special effects.
Right now, the Vimeo app is available only through the App Store, but Android owners, don't fret. A version for Google's open source OS is being developed and will soon be available in the Android Market.
source:
Vimeo