Video shows BlackBerry Bold 9900 in action from Vodafone
1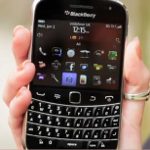 The last time we
reported
specifically on the BlackBerry Bold 9900, was to tell you that the global launch of the GSM handset was going to be
delayed
until September. Be that as it may,
Vodafone
has already made a "sneak-peek" video of the device which blends the
large QWERTY keyboard found on the BlackBerry Bold 9000
with a 2.8 inch touchscreen. The new BlackBerry 7 OS is on board along with a new browser that
according to the SunSpider test
, devours JavaScript.
just learned
from an ad on Google that Verizon will be joining Sprint in offering the CDMA version of the phone, the BlackBerry Bold 9930. Unlike the mess that RIM made with the launch of its first touchscreen device, the
BlackBerry Storm
, and the weak specs found on the
BlackBerry Torch 9800
, this touchscreen variant of the Bold will come to market with some firepower as you can see and hear in the video below. And then there is that
luscious
keyboard and form factor, copied straight from the original Bold model.
Not only will current BlackBerry owners be drawn to the device, but it just might be enough of a
beast
to attract users of other platforms to the phone. The early buzz shows that this unit might have
appeal
to those who have been using the Apple iPhone, Windows Phone 7 devices or Android handsets. It is too early for the carriers to reveal a price or a specific launch date, but we will be keeping an eye out for some more clues that we are getting close to seeing both the BlackBerry Bold 9900 and 9930 get released around the globe.
source:
Crackberry