Verizon's NFL app brings you draft-week excitement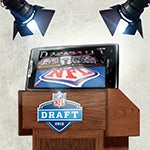 Are you an NFL draftnik? Are you appalled that the Colts may take Andrew Luck over RG3? Itching to see if any team risks selecting a running back in the first round? Hoping your team will hedge its future on trading up for a marquee player, or do you want them to trade down so they can start the rebuilding process?
If your eyes were glazing over reading the first paragraph you are probably better off picking a different news story. But if you're a NFL fan, you already know that the hottest three days of the off-season are coming up later this month. If that's you, Verizon wants you to know that the best way to stay on top of every moment in the draft is through their
exclusive NFL app
, available for Android and iPhone users.
Football fans on Big Red's network can watch video streams of the picks, they can get biographical information and combine reports for draft picks, or they can just keep up with the selection board as the 72 hour draft-a-palooza steams through the American football consciousness.
Best of all, the app is free in the respective app markets. Of course it wasn't free to Verizon (who pays dearly to sponsor the NFL and maintain exclusivity on the app), which is exactly why they want to make sure you all know about it; they paid good money to make this a
benefit to their subscribers
, so they'd like you to hurry up and download it at one of the source links below!
market links:
iTunes
,
Play Store
source:
Verizon Wireless