Verizon kicks off prepaid promotion that offers double the data and up to 16GB for $45
1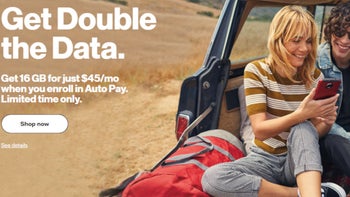 Verizon is trying to increase its pool of prepaid customers with a brand new promotion that offers double the data for the same price. The promotion kicked off early today and won't last for long, but it's eligible for mixing with other Verizon plans if you wish.
Spotted by Droid-life, the limited time offer is available to new activations only, but it's quite flexible since once you activate it, you can move between eligible plans anytime and keep the bonus data.
As long as your account remains active, bonus data will be added each month, but keep in mind that promotional data allowance will not be shown in your shopping card, although you'll see it in your account after activation.
As far as the prices go, you'll now receive 1GB for $30, 6GB for $35, and 16GB for $45, as long as you sign up for autopay. Each of these Verizon prepaid plans come with unlimited talk and text, as well as unlimited calling to Mexico and Canada, but they are throttled to 480p video.