Verizon partners with American Express on mobile payments
2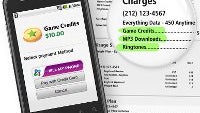 Verizon Wireless and American Express have just announced a partnership bringing Serve, a digital wallet service of American Express, to mobile devices allowing customers to make
purchases via their phone
by simply punching down their phone number. Serve is a digital payment platform that will get integrated in both tablets and phones. It differs from other systems by both its simplicity and the fact that customers can buy goods while on the phone.
The announcement confirms previous talk about Big Reg delivering payments via carrier billing service Payfone, which is now expected to become a part of Serve. Serve is currently accepted by the wide networks of retailers accepting American Express cards.
"Our collaboration with Verizon highlights the speed at which Serve is evolving to reach a wide audience,"
Dan Schulman, president of Enterprise Growth at American Express, stressed.
"Verizon Wireless customers will soon be able to complement their busy lifestyle with a trusted payment platform that delivers a fast, flexible and secure way to manage their day-to-day mobile purchases, and together we're taking the necessary steps to make mobile commerce a reality."
The service brings together quick transactions as it only requires a couple of taps, safety with authentication and flexibility. The mobile number is a key tool in authenticating a purchase and online purchases can also be carried out via Serve, but the actual limit has yet to be worked out. Currently, it stands at $25 for the Payfone service. All Verizon Wireless customers can make use of the new service.
While Verizon does participate in various mobile payment initiatives like ISIS which aims to bring a single platform for mobile payments across the nation, it also pushes numerous of its own initiatives meanwhile. So finally, while there's no one standard, competition will shape the growing niche and that's most certainly a good thing for the end user.
source:
Serve
, Verizon Wireless