Verizon employee Limited Edition HTC DROID DNA photographed wearing "Big Red"
31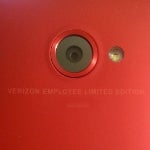 In a bid to keep employees happy, Verizon recently started offering limited edition models of certain handsets to employees only. For example, the carrier recently offered employees the chance to buy a
limited edition of the HTC Windows Phone 8X
. Back in May, those who work for the nation's largest carrier were given the opportunity to buy a limited edition
Motorola DROID RAZR MAXX
in "Big Red". Both phones have special wording on the back and are individually numbered. As you might expect, these models usually end up on eBay where the Motorola DROID RAZR MAXX Limited Edition can be purchased immediately for
$349.95
.
Now comes word that Verizon employees will be getting an opportunity to purchase the
HTC DROID DNA
in red. This is the beast with a 5 inch screen, a 1080p resolution, and a
Retina display busting
pixel
density of 441ppi. The unit has been photographed and we wouldn't be surprised to see a mad dash for the Human Resources department at Verizon after pictures of the phone make the rounds.
There is no word on whether the carrier plans on offering the HTC DROID DNA to customers, but then again, doing so would eliminate the "Limited Edition" title of the device, wouldn't it?
source:
DroidLife