Windows Phone 8X by HTC "Limited Edition" phone coming to Verizon employees
13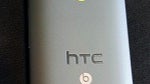 It is pretty cool when manufacturers partner with carriers to offer something special. It is
really
cool when that partnership is used to offer something special, and only for certain people.
You may remember earlier this year when
Verizon and Motorola arranged for some "employee only" limited edition Droid RAZR
smartphones. We caught wind of "Big Red" and Motorola planning
the same with the RAZR MAXX HD
, with that sharp red and black pattern and limited edition labeling and numbering.
Verizon obviously had positive feedback from employees because it looks like HTC is getting in on the game too, with their
Windows Phone 8X
sporting sharp neon colored accents around the camera and earpiece. The body color is a grey-metal look that lends to the two-tone appearance of the HTC 8S. There is subtle labeling on the back indicating it is a limited edition device with individual numbering (just like the RAZRs).
We do not know how many devices are being built, which Verizon employees are eligible to acquire one, or if the devices have any extra features (not likely). We are highly confident however that we will see a number of these devices show up on eBay. There will certainly be interest too, just look at the pictures. The already handsome and excellent HTC 8X now has a bit more allure to it.
source:
WPCentral