Verizon Moto X now available in woven white or black
10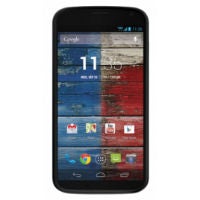 Today was said to be the day, and it is true: the Motorola Moto X is now available on Verizon Wireless. Verizon had said on Twitter that the Moto X would be made available for online purchases on
August 29th
, and while it isn't even August 29th in all of the continental United States, the device is available for purchase.
Of course, the Moto Maker customization tool is still exclusive to AT&T, so the only options right now for Verizon customers are the woven black and woven white colors. The rumor is that Moto Maker will be opened up to other carriers sometime in
November
, but we don't have confirmation of that. In the meantime, you can purchase a Moto X on Verizon for $199 with a two-year contract, or for $599 off-contract, which is $20 more than AT&T's off-contract pricing.
Last week, Motorola's Vice President of Product Management
Punit Soni
had said that the Moto X for other carriers and the Moto X developer edition would be rolling out soon. We still don't have word on the Sprint variant, but maybe this means the unlocked Moto X will be going on sale soon.