Moto X dev edition and other carrier options coming "in days"
10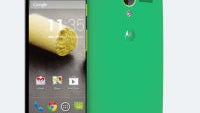 Today, the Motorola Moto X
launched on AT&T
along with the
Moto Maker
customization tool. Moto Maker isn't expected to be released from its AT&T exclusivity until
November
; but, the word from Motorola's Vice President of Product Management Punit Soni is that the device will be released on other carriers in just days.
Soni sent out the word on Google+, even though the message was definitely Twitter-length. It was a short message saying, "Step 1 of rollout. Dev editions, other carrier versions rolling out in days." Although we haven't had official announcements from any other carriers, the assumption has been that the Moto X would hit Verizon and Sprint before the end of August.
It's unclear if the "dev edition" that Soni mentions is the version that will be sold directly through the Google Play Store. We know that the Moto X will be sold in the Play Store, and that it won't be a
Google Edition
device. All devices sold through Google Play are sold carrier unlocked, but not necessarily bootloader unlocked as you'd want in a developer device.