Moto X may launch August 23rd on all carriers, Moto Maker exclusive on AT&T until November
5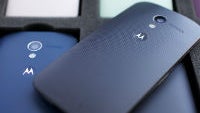 So far, we have seen
three
separate
leaks
that put the Verizon release date for the Motorola Moto X on August 23rd, but a new report says that may be the release date for all four major carriers in the U.S. And, the report also states that the annoying exclusivity of Moto Maker on AT&T may only last until November.
The report comes from Ad Age who had interviewed Motorola's VP of Global Brand and Product Marketing Brian Wallace. According to the report (which cites Mr. Wallace directly for everything except this info), the Moto X will launch on Verizon, AT&T, Sprint, and T-Mobile on August 23rd; and,
in early November the exclusivity deal for Moto Maker will end
with AT&T, opening up the customization options to the other three major carriers.
The report also says that the deal with AT&T will have the Moto X featured prominently in AT&T stores. It doesn't mention the release or Moto Maker options for U.S. Cellular, so we're assuming that carrier may be the reason Motorola added in the "early-September" window to the release info for the device. The report also doesn't mention the news that
T-Mobile won't be carrying the device in stores
, but it does say that T-Mobile will get Moto Maker support, so maybe the T-Mo version will simply be sold unlocked directly from Motorola? Or, perhaps T-Mobile will only start carrying it in stores when it has Moto Maker support. We're unclear on that right now.