Various UK carriers comment on Samsung Galaxy S II ICS update, out for Three now
4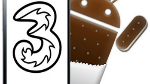 We've seen the Android 4.0 Ice Cream Sandwich update for the Samsung Galaxy S II rolling out to
various regions
including Asia and Europe. If you happen to live in the UK and have an unlocked Samsung Galaxy S II, you may have already gotten the update, but if you're locked onto a carrier, you're still waiting. Well, we have good news for at least some of you.
Three UK has announced that the Android 4.0 update is available right now for Samsung Galaxy S II users, although not OTA. You'll need to hook up to a computer and go through Kies, but the update should be there waiting for you. Unfortunately, not such good news for those of you on other carriers.
O2 has said that the update is expected to roll out "at the start of April". Orange and Vodafone both confirmed that the update was in the works, but gave no release window. T-Mobile UK was the worst of the bunch, with the support team saying that it "doesn't receive details regarding these updates until they have been released on the network."