Valve launches Steam Chat app for Android and iOS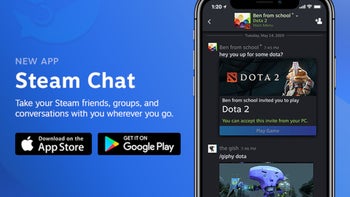 After bringing
Steam Link app
to gamers and the option play all games from their Steam library on mobile phones, Valve releases another app that's meant to modernized Steam chat experience. The new Steam Chat mobile app is now available for free on both Android and iOS platforms via
Google Play Store
and
App Store
.
Among the many features it offers, it's worth mentioning the customizable notifications, which will prevent users from missing a message or game invite. These notifications can be customized per friend, group chat, and chat channel.
Obviously, you'll be able to see who's in game or online before you start chatting with your Steam friends. Furthermore, Valve promises a rich experience thanks to higher fidelity links, videos, tweets, GIFs, Giphy, Steam emoticons, and more.
The Steam Chat mobile app will also allow users to add new friends on Steam with a link. You'll just need to generate an invite link to send via text or email. Last but not least, the app features support for group chats.