VMK elikia smartphone and Way-C tablet, designed in Africa, hit the market
12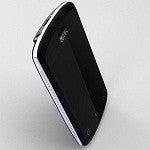 Entrepreneur Verone Mankou is putting the Republic of Congo on the map of technology nations. The first editions of the entry level Android smartphone and tablet are rather nicely designed.
The tablet, called the Way-C, which means, "the light of the stars," is a 7-inch tablet running Android 2.3 Gingerbread, powered by a 1.2GHz processor, has 512MB of RAM along with 4GB of storage and an 800x480 display. There is also microSD storage support up to 32GB. Wi-Fi is on board too, 802.11b/g. Providing the power is a 4200mAh battery which VMK says will give you about 6 hours of use. Indeed, by current cutting edge standards, it does not get the heart beating, but the design is not unpleasant to look at.
The smartphone, called the elikia, which means "hope," is also pleasing to the eye. Its appearance does not exude entry level, but that is what it is. The phone is built around a 3.5-inch, 320x480 display, running Android 2.3 Gingerbread, powered by a 650MHz processor, has 512MB of RAM with 126MB of storage. Thankfully, there is microSD support for the elikia as well. Wi-Fi is on board (802.11b/g/n) as is the device's ability to be a hot-spot. The 1300mAh battery should be good for up to 9 hours of talk time.
The Way-C tablet will run $300 and the elikia costs $170 without a contract. In addition to the Republic of Congo, these two devices are available in 10 other African nations as well as France, India and Belgium.
via:
Mashable