V-MODA Crossfade 2 Wireless gets upgraded with new Codex Edition
1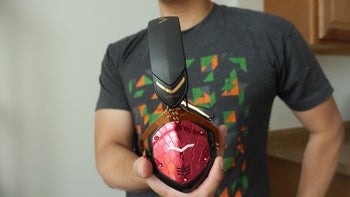 There's a reason why the V-MODA Crossfade 2 Wireless made our list of
best over-the-ear headphones to buy in 2018
. Well, the best keeps on getting better! A new variant of the popular headphones just recently launched, the V-MODA Crossfade 2 Wireless
Codex Edition
receives a new upgrade to really appease hardcore audiophiles.
Specifically, it's raising the bar by not only building upon its success in the market already, but this particular version adds three audio codecs for improved audio quality and universal compatibility. The bigger one is the support for Qualcomm aptX with Android devices and MacOS sources, delivering CD audio quality sound over Bluetooth connectivity. Supplementing its enhancements, it also features support for the Advanced Audio Codec (AAC) and Sub-Band Codec (SBC).
Beyond that, the Codex Edition flaunts the same stylish design that the headphones are known for! However, it should be noted that a new color has been added to the mix –
rose gold
, which supplements the previous matte black and matte white options. And for those who prefer to be unique, V-MODA continues to offer one of the best customization packages around, as you can personalize nearly every aspect of the headphones to your liking online, or at Best Buy Magnolia and Microsoft Stores across the US.
In terms of pricing, the new V-MODA Crossfade 2 Wireless Codex Edition commands a starting price point of $350. Of course, the cost will increase depending on other premium customizations that you choose. While the overall design of the headphones mirrors its predecessors, it's still one of the most stylish around with a premium look and feel to it. Throw in the upgraded sound performance, the Codex Edition is surely one that'll be memorable.