Upgrade to an HTC G2 at Costco
5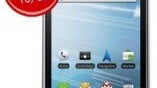 Add Costco to the list of stores to carry the HTC G2 for T-Mobile. Costco is even throwing in an accessory pack with the device for free, while keeping it at the $199.99 price point that T-Mobile customers have.
There is a bit of a catch however for potential G2 owners. If you're on flexpay, you can forget it because Costco is only selling the phones to customers eligible for a standard upgrade. If you want to buy the without a contract you are also out of luck.
We knew a while back that this phone would find its way to this chain store, we just didn't know for what cost and for what terms. Seeing them offer it at the same price point along with an accessory pack is a welcome surprise, even though other chain retailers like RadioShack are offering the phone for 50 dollars cheaper.
So what is exactly included in this accessory pack? It's actually quite the deal. It comes with a case, a car charger and a Bluetooth headset. Not bad considering T-Mobile isn't throwing anything in for free at this time.
source:
Into Mobile