Update rolling out for T-Mobile's Nokia Nuron 5230?
This article contains unofficial information.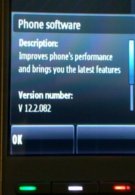 Even though the Nokia Nuron 5230 may not have been the handset to truly showcase S60 5th Edition powered smartphones in the US, it still nonetheless brought on a tasting for consumers. For those who decided to take the plunge with the Nokia Nuron 5230 for T-Mobile, there are reports saying that an update is now available which "improves phone's performance and brings you the latest features." Some owners have started to receive a notification regarding the availability of the update – which can also be accomplished manually by going to the settings menu of the phone. Aside from that quick description, it remains unseen what else accompanies the update. As US consumers still wait and see what other high-end Nokia handsets might make an appearance stateside, the Nokia Nuron remains to be a viable source for those interested in a carrier offered S60 5th Edition handset.
Nokia Nuron 5230 Specifications
|
Review
source:
TmoNews