Update for Google Maps introduces Local Guides, a feature that paves the way for better user reviews
9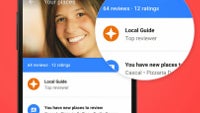 After the arrival of HERE Maps for Android, Google Maps is certainly faced against more competition than before, as Nokia's in-house, offline navigation service is poised to give Google Maps a run for their money. Surely, that's among the main reasons why Google is ostensibly seeking to improve its map service and the overall user experience. Henceforth, the latest update (v9.4) to the latter is not your usual bug-fixing one, but a rather feature-oriented improvement to the Android version of Google Maps.
For one, Google Maps introduces Local Guides, a feature that allows users to benefit from the reviews they post for certain locations and points of interest, similar to the way they do in Yelp or Foursquare. This way, Google is certainly seeking to improve both the quality and quantity of the user reviews, which will further step up the game of Maps.
However, as Android Police points out, the user review-sorting system is not very clear, which means that some might exploit the feature and post many low-quality reviews. Meanwhile, according to Google, a high-quality user review is
"usually 3 to 4 sentences long and contains specific, helpful and balanced information about a particular business"
. Hopefully, Mountain View will eventually come up with a way to sort out the weed from the chaff.
If you wish to try Google Maps v9.4, patiently wait for it to hit your device. You can also side-load this exact version of the app by visiting the source link.