Upcoming HTC Sense 5.5 screenshots show a BlinkFeed kill switch, new camera options
25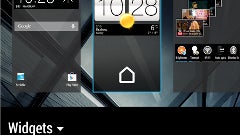 The HTC Sense interface is due for an update with the upcoming
One Max
phablet, and a few of the new Sense 5.5 goodies leaked in the form of several screenshots. Some of the software improvements we already heard speculation on, like the BlinkFeed news aggregator getting photos and music folded in, and the Video Highlights feature duration will apparently also be increased.
From the leaked snaps below we are seeing that BlinkFeed can now be easily turned on and off, which was impossible in Sense 5.0, which is a very welcome change. Those camera improvements we heard about are now materializing in the form of two more options like Panorama+ and Dual Capture. Panorama+ might very well be a 360 degrees mode, while Dual Capture would be snapping with both the front and rear cameras at once.
The notification toggles drop down menu has received a new "Do Not Disturb" option, and there are some new Emoji and rescaling options in the on-screen keyboard. All in all, nothing groundbreaking, but some welcome changes nonetheless.