Up-close pics of new iPhone 9-pin dock connector, same size as micro-USB
70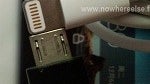 The rumored 9-pin connector Apple may begin using with the newest generation of iPhone appears to have the same dimensions as the familiar micro-USB. The newest pictures from French tech blog nowhereelse.fr show that there are actually 8 pins flush with the main metal plug which itself is the ninth point of contact.
The 8 pins are in the same position on both sides of the plug which indicates that the plug does not need to be oriented any specific way when inserting it in to the newest generation iPhone (unlike the current 30-pin or USB plugs with a tongue orientation to interface with the plug). It is not known if the same connector will make its way to the new iPod line.
These photos have not been confirmed to be the real deal, but they are consistent with previous images that have surfaced in the past.
Apple has sent invitations for a special event on September 12th
, where many answers are expected, along with the anticipated announcement of the sixth generation iPhone.
sources:
nowhereelse.fr
via
AppleInsider