UPDATED:Motorola CLIQ gets update
4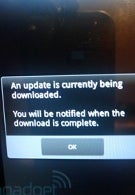 First the DROID never got the Android 2.1 update users were promised. Then, CLIQ owners failed to get the minor upgrade they were expecting. Today, Motorola got it right and the CLIQ was sent out the new 1.3.18 build. No, it is not Android 2.1, and yeah, it takes care of a few minor buggy issues like improving battery life, accelerometer issues, problems with the touchscreen and GPS improvement, but it is better than nothing, right? The update is being done on a rolling basis so if you didn't get your notice yet, don't worry-you will. Just keep checking every few minutes and do us a favor-let us know if you notice any changes once you've downloaded it. For a complete list of fixes, check the source link.
Motorola CLIQ Specifications
|
Review
source:
Motorola
via
EngadgetMobile
*UPDATE*
According to the forums on the Motorola owner's site (the source link above), word starting spreading that not everyone had been able to complete loading the upgrade on their CLIQ. So of course, talk started that Motorola had recalled the upgrade. According to the forum manager, Motorola had simply taken the upgrade out for a test drive and if everything works fine, the full upgrade will be sent out. So if you did not receive the upgrade today, or it failed, be patient. Motorola will get the upgrade out. Now, about the DROID...