U.K. retailer taking pre-orders for Apple iPhone 6s and Apple iPhone 6s Plus cases and bumpers
6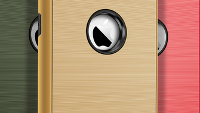 U.K. retailer More has started taking pre-orders for cases that are designed with the upcoming
Apple iPhone 6s
and
Apple iPhone 6s Plus
in mind. Images of the cases show that the next iteration of the iPhone will look the same as the current model with at least one difference. Whether due to the added hardware required to make Force Touch work, or because of a larger battery that will be inside the new phones, both the iPhone 6s and iPhone 6s Plus
will be .2mm larger than their respective predecessor
. That means that we expect the iPhone 6s to measure 7.1mm thick and the iPhone 6s Plus should come to market with a thickness of 7.3mm.
More is currently accepting pre-orders for one case and one bumper. The
Duo Tough Extreme
is a case for those iPhone owners who drop their phone constantly, and need the maximum protection available for their new handset. The
Ultra Thin BumperLicious
bumpers are for those who want the world to see how spectacular the iPhone design is, and feel comfortable that it won't drop out of their hand.
Available in 10 different colors, you can pre-order the Duo Tough Extreme for the equivalent of $31.20 USD. The price is the same regardless if you choose the case for the iPhone 6s or the iPhone 6s Plus. The Ultra Thin BumperLicious bumpers are available in Crystal Clear and in six transparent colors. Just .7mm thin, these can be pre-ordered for the equivalent of $23.40 USD.
Producing cases on a speculative basis can be a money losing proposition, which is why most case manufacturers have some idea what to expect from an upcoming model. All signs point to a the iPhone 6s and iPhone 6s Plus looking very much like the current models with a very slight increase in thickness. We should point out that the Apple iPhone 6c was a conspicuous no show, which means that
rumors of a new 4-inch model appear to be wrong
.
Thanks for the tip!
source:
More