Typo 2 physical keyboard for iPhone 6, 5s and 5 now shipping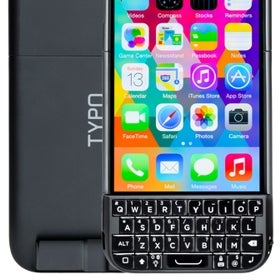 If you want a physical QWERTY keyboard for your iPhone, you can now order a
Typo 2
- the redesigned version of Typo (which couldn't be released earlier this year because
BlackBerry sued its maker
). Unlike the first edition of the accessory, Typo 2 no longer resembles a BlackBerry keyboard.
Typo 2 is available for
iPhone 6
, costing $99, and for iPhone 5s / 5, costing $79. Free US shipping and 120-day warranty are included. While the keyboard will cover your iPhone's Home button, it has its own key that acts as a Home button. Unfortunately, you won't be able to use Touch ID while having a Typo 2 attached.
At the moment, there's no Typo 2 for the
iPhone 6 Plus
, because "the phone is so big, it makes it top heavy." However, the company is working on new designs, and may release a keyboard for the
iPhone 6 Plus
next year. That's also when it plans to launch a Typo keyboard for iPad. According to Re/code, which received an image of the iPad keyboard, Typo already invested $2 million in its development.
Besides the US, the Typo 2 for
iPhone 6
/ 5s / 5 can be shipped to the following countries: Australia, Canada, France, Germany, Hong Kong, Italy, Japan, and the United Kingdom. Any takers?