Treo Pro to debut with Sprint on March 15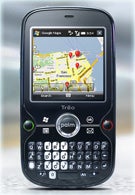 Finally, after a series of leaks, delays and accidental appearances on Sprint's web site, Palm's
Treo Pro
is finally scheduled to launch with Sprint. The announced release date is March 15 and the device will be available at a price of $199. For those of you that have already forgotten what the Treo Pro is all about, we will summarize it in one word only – business. It runs the Windows Mobile 6.1 Professional, which guarantees the presence all necessary tools, but in addition, the Sprint Treo Pro will also be the first Palm smartphone to utilize Microsoft's Internet Explorer 6. More features of the device include, of course, Wi-Fi for fast internet connection, touch-sensitive screen, GPS and a full QWERTY keyboard, all packed in a good-looking candybar body.
Palm Treo Pro CDMA Specifications
|
Review (GSM)
source:
Palm
If you have some interesting info that you'd like to share with us, feel free to
Tip Us!