Toshiba Honeycomb tablet named ANT, prices start from $450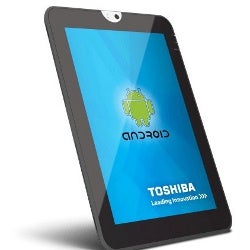 We first saw Toshiba's mysterious10.1-inch tablet at CES (hands-on here)running Froyo, then at MWC it was already running Android Honeycomb, but at both events we were left wondering about the nameof the tablet. Now, that secret is unveiled as the tablet will benamed Toshiba ANT, but what's even more important, it will ship inthree different versions with prices starting from $450. Productlistings on Newegg initially revealed there will be an 8GB, 16GB and32GB models, but have later been removed:
Toshiba ANT-100(8GB).................$450
Toshiba ANT-102(16GB)...............$500
Toshiba ANT-104(32GB)...............$580
The tablet sports an NVIDIA Tegra 2dual-core chip clocked at 1GHz, responsible for the smoothperformance of Honeycomb on a 10.1" display with resolution of 1280x 800 pixels. Battery life is rated at 7 hours, powered by areplaceable 6-cell battery.

The Toshiba ANT also has a 5-megapixel rearsnapper with auto focus, while on the front there is a 2MP camera,perfect for video conferencing. Media playback is aided by stereospeakers, an HDMI port, full-size USB,a mini-USB port and SD card slot. The tablet space is gettingmore crowded by the day, but could such a price buy you into theToshiba ANT slate?
source: Phandroid