Toshiba Excite 10 unboxing
3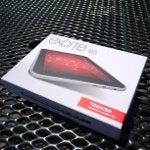 Although we're still trying to get the memory of the
Toshiba Thrive out of our mind
, especially when it donned one of the ugliest tablet designs in recent memory, we're absolutely eager to check out what Toshiba's latest offering is all about. Back last month, we had the opportunity of
checking out the Toshiba Excite 10
, an Ice Cream Sandwich tablet that's powered by a lovely
quad-core NVIDIA Tegra 3 processor
. Now that it's here
in the flesh for $449.99
, we're curious to see what else is in tow with the purchase.
Packaging-wise, there's nothing particularly exciting about it, as a close up image of the tablet takes up the majority of the front cover – with the Excite 10 moniker in plain view right next to it. Around the sides, we're greeted with some profile views of the tablet, though, it's not scaled to its real proportions. Also, there are some specs littered on one side of the box telling us what this tablet is all about. Inside, there's nothing out of the ordinary as we find all the usual set of suspects that we're accustomed to seeing at this point – like its quick start guide, proprietary USB cable, and wall charger.
We won't go in depth about this one, especially when we covered some things about it during our hands-on time, but we have to admit, this is one
solid constructed tablet
. Honestly, we're glad that it's sporting a more modern appearance over the Thrive, which will enable it to play well against some of its rivals. Of course, the Toshiba Excite 10 seems to operate at a feverish rate out of the box, while its 10.1"WXGA (1280 x 800) IPS LCD display is undoubtedly polarizing with its high-contrast and luscious appearance.
In a world of quad-cores, it's enlightening that we're starting to see them in more tablets aside from what we've been seeing from Asus. Are we excited? Absolutely, so we'll be testing it out further to see how it fares in the long run. Expect our in-depth review soon!