Top 9 best cases for the Motorola Moto X Pure Edition
5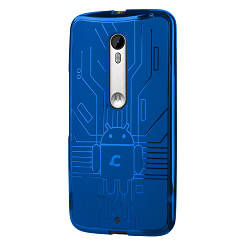 If you're looking to protect your current-gen Motorola flagship, you've come to the right place! In what follows, we're going to take a look at the top 9 best Motorola Moto X Pure cases currently out there.
Like with all of our previous case roundups, diversity was one of our main goals when selecting the best Moto X Pure cases. As such, we've included clear TPU cases, a few hard cases, rugged cases, and even a bumper case.
Although it's definitely not as shiny as the new Samsung Galaxy S7 series, the
Motorola Moto X Pure Edition
remains one of the best value-for-money smartphones on the market. At the moment, the Moto X Pure can be had for just $299.99. At this money, it's hard to find a more attractive proposition in the US smartphone market.
Case-Mate Tough Frame
Like with all of Motorola's flagship phones in these past few years, customers can customize the 2015 Moto X Pure using the company's Moto-Maker website. If you're willing to pay extra to customize the accents of the phone or to engrave your name on the back of the phone, then you probably don't want to hide your customized phone under a case.
By getting a bumper case for the Moto X Pure, you can score some impact protection for your phone while still exposing the design of the phone for everyone (including yourself) to admire.
Priced at $20, the Case-Mate Tough Frame Case bumper case isn't on the cheap side, but the next time your Moto X Pure meets the floor, you'll probably be glad that you picked a quality bumper case.
i-Blason Halo Series Hybrid Clear
Cruzerlite Bugdroid Circuit
Incipio Feather
Incpio Octane


SUPACASE Unicorn Beetle
As an alternative to the Incipio Octane, check out the SUPACASE Unicorn Beetle case for the 2015 Motorola Moto X Pure, which is another case that offers a TPU bumper and a hard polycarbonate back. Obviously, the design is a bit different (more futuristic), and we should also note that the back cover is semi-transparent.
SUPACASE Rugged
From this point on, we'll move the focus to Moto X Pure cases that offer full protection. One good pick in this category is the SUPACASE Rugged Case, which comes with a TPU bumper, a hard polycarbonate shell on the back, as well as a front cover with a built-in screen protector.
Priced at $20 SUPCASE's rugged case for the Moto X Pure Edition comes with three interchangeable covers colored in gray, silver, and gold.
i-Blason Prime
Otterbox Defender
If you're looking for the best rugged case for the Moto X Pure Edition and budget is not an issue, then the Otterbox Defender case is what you should be using. The case comes with a hard polycarbonate shell, internal foam padding, a rubber outer slipcover, as well as a built-in screen protector.
Priced at $53.95, this is by far the most expensive case listed here, but you also get the advantage of lifetime warranty.