Three new Bluetooth headsets from Nokia
0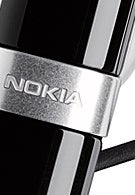 Nokia BH-602
is targeted to people who talk much, and has claimed battery talk time of 11 hours, although it features DSP (digital signal processing) to improve the call quality in noisy environments. The BH-602 has LED battery indicator, and charged for just 15 minutes it can provide up to 5 hours of talk time, which is about the average of most other DSP headsets. It features automatic volume adjustment and its price should be about $100-120 (75-90 euro), excluding taxes.
BH-603
is more stylish one, targeted to people who are choosing their accessories by the design. Being stylish doesn't mean it will have low sound quality, as this one also features DSP system. For controlling its sound volume, BH-603 has touch-sensitive keys, "hidden" in its glossy body. Its price will be $187-215 (140-160 euro) excluding taxes.
The BH-604
is stereo headset for the music fans. It has circumaural design (over the ears), and has keys for controlling the phone and the music functionality, through Bluetooth AVRCP profile. Its estimated price is $160-187 (120-140 euro) excluding taxes.
source: Nokia