Those that dread shopping the mall maze, these apps will help you find your way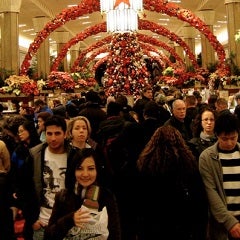 Even though holiday shopping is becoming an ever-increasing online affair, die-hard shoppers still flock to malls all over to browse, touch, and feel the goodies they want to buy.
Quite often, an unwilling companion is roped into coming along for the death march shopping adventure. However, there are some apps that can help people find their way around so they do not get stuck on every bunny trail they find along the way.
It is worth nothing that brick-and-mortar retailers are doing all they can to compete with online sellers, who typically benefit from a lower overhead, thus lower cost, but also lack in providing a sense of instant gratification.
There is no guarantee that smoother navigation through crowded malls will make the experience any more pleasant, but every bit helps. Besides, you might just find exactly what your beau wanted too. These shopping apps are made to help you find your way around the mall, as well as find the products and retailers you like.
Westfield US
Westfield
Simon Malls & Outlets
Simon Malls, Mills & Outlets
Point Inside
PhoneArena is on Instagram
. Follow us to stay updated with fresh news and flashy media from the world of mobile!