Thomas Was Alone, Surgeon Sim, Deep Dungeons Of Doom, and Twelve A Dozen go on a Thanksgiving sale
0

Want to cram some quality gaming time in your Thanksgiving holiday? Very well, then! Bossa Studios is having a half-priced sale of four really good Android & iOS games. They are Thomas Was Alone, Surgeon Simulator, Deep Dungeons Of Doom, and Twelve a dozen.
Thomas Was Alone ($2.99 down from $5.99)
Meet Thomas, a curious rectangle, and help him unravel the mysteries of his existence in a wonderfully strange world. Experience 100 levels of award-winning platform gameplay and take part in an emotional story narrated by Danny Wallace.
Download Thomas Was Alone on Android | iOS
Surgeon Simulator ($2.99 down from $5.99)
You are the surgeon. Bob is the victim. Do your worst!Take urgent care of the world's unluckiest patient, Bob, with your very own shaky hands. As the would-be surgeon Nigel Burke, perform all kinds of crazy surgeries to try to save his life -- or fail hilariously in the process while poor Bob... Well, dies.Join the ranks of more than one million players who butchered Bob for the amusement of 250 million people who watched the failed surgeries on YouTube, now from the comfort of your awesome Android tablet, anytime, anywhere. Hospitals don't get any better than this, really.
Download Surgeon Simulator on Android | iOS
Surgeon Simulator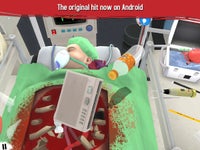 Deep Dungeons Of Doom ($1.99 down from $4.99)
You're Going Down! Enter the Deep Dungeons of Doom if you dare…This game is only for the brave. Dungeons await, each one deeper, each one more perilous and each one more challenging than the last.You will meet monsters and you will need skill and tactics to defeat them. You will find weird and wonderful treasures along the way. Most will help you, but some might not. You may choose to play as a Crusader, a Witch or a Mercenary – in fact each one might well be required if you are to successfully complete your quest – but knowing when to use each one is something you are going to have to figure out for yourself.The reward for your endeavours? The Deepest Dungeon of Doom. Never before has such evil existed on such a massive scale. Only the most battle-hardened rogues will stand a chance of making an impact.
Download Deep Dungeons Of Doom on Android | iOS
Twelve a Dozen ($1.99 down from $4.99)
GAME FEATURES:- 50 levels of superb platforming adventure- Delightful puzzles to solve as you journey through the world - Core mathematical concepts presented in an engaging and meaningful way- Stunning art and a charming story that appeals to all ages - Charming voice-over provided by English comedian and actress Lucy Montgomery
Download Twelve a dozen on iOS