Third party QWERTY Fleksy gets update before listing in the Samsung and Amazon App stores
3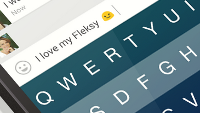 Fleksy is one of the most popular third party QWERTY keyboard apps in the world. Originally developed as a keyboard for the visually impaired, Fleksy quickly changes misspelled words. Swiping across the QWERTY, you can delete words, add punctuation, or type numbers. The third party QWERTY can be minimized or even made invisible so you can view 100% of your screen.
Currently available in the Google Play Store and in the Apple App Store, Fleksy is also heading to the Samsung App Store and the Amazon Appstore. In addition, the Android version of the app is getting an update to version 3.2.6, which includes a new 'True Dark' theme. This is one of a number of premium themes that can be purchased for Fleksy. The premium themes offer new swipe animations. In addition, plenty of new emoji have been added. Why say it when you can emoji it! Fleksy also added support for
the two most requested languages, Polish and Ukrainian. Languages can be switched in the middle of typing by using the spacebar. And the update also includes the usual set of bug-fixes and optimizations.
Fleksy Messenger 2.0 for the Samsung Gear watches, is a redesigned version for wearable devices. The QWERTY is full featured and lets you type symbols and numbers just as though it were the version of the app for your phone. You can decide on the layout or theme that works best for you and your watch. You can also decide which colors match your timepiece the best. Other choices you have include deciding between swiping or 'button pecking'. Auto-correct can also be turned off, and the update adds English and Spanish dictionaries.
The
Samsung Gear S, Samsung's stand-alone smartwatch
that is equipped with 3G connectivity and a SIM card,
supports just one fully integrated keyboard and that is Fleksy
. Owners of the Gear S get the Fleksy QWERTY to use on the watch for free. We have to say that Fleksy looks quite spiffy on that two-inch curved screen.
source: Fleksy (
Android
) via
Android Central