Theater Mode, SiriKit come to Apple Watch with watchOS 3.2 Beta 1 arrival
1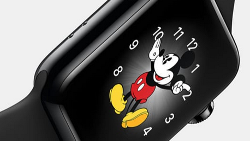 The
just released watchOS 3.2 Beta 1 includes two major additions
. One is Theater Mode, and the other is SiriKit. The latter allows developers of apps pertaining to audio/video calling, messaging, sending and receiving payments, booking rides, starting workouts, and searching for photos, to integrate with Siri. For example, an Apple Watch user will be able to ask Siri to book a ride using Lyft. Theater Mode, which is also expected for the iPhone with iOS 10.3, turns off features on the Apple Watch that would bother fellow movie-goers inside a theater.
Without having to go into settings to make the change, Theater Mode disables the raise-to-wake feature on the Apple Watch, and mutes the sound. Notifications are still received and haptics are still felt by the wearer. The screen will remain dark until the user taps the screen, presses the Digital Crown, or pushes the side button. Spinning the Digital Crown in Theater Mode will slowly brighten the screen from its darkest setting. The icon for Theater Mode is the pair of masks representing comedy and tragedy.
If you receive the notification that watchOS 3.2 Beta 1 is ready to be installed on your Apple Watch, make sure your timepiece is within range of your Wi-Fi connected iPhone. Also, you need to make sure that the battery on the watch is charged to at least 50%. Additionally, you should not restart the Apple Watch or remove it from the charger until the update is complete. Just in case you are curious, the watchOS 3.2 Beta 1 update weighs in at 242MB.
source:
9to5Mac