watchOS 3.2 update to add Theater Mode, Siri integration for specific apps
8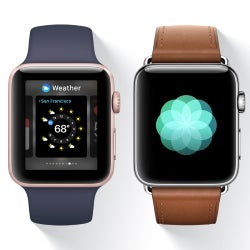 The update to watchOS 3.2 for the Apple Watch is still contained within Apple's labs, but a change log for it is already available online, giving out the upcoming changes and new features. Okay, there are only two of them, but they are interesting! First off, Theater Mode. When activated, it mutes the wearable and prevents its display from lighting up when you raise your wrist. This makes the wearable less distracting in the dark. It still receives notifications, though, complete with haptic signals. Notifications can be quickly glanced at by tapping the screen or using the Digital Crown.
It is rumored that Theater Mode will be added to iOS in a forthcoming update, although the iOS 10.3 beta that's been released to developers doesn't have it. Still, Theater Mode makes more sense on the Apple Watch which is worn on the wrist as the iPhone resides inside a pocket or purse.
The second addition in watchOS 3.2 is SiriKit. Basically, any app with messaging, payments, booking, workout, calling, and photo searching functionality can be summoned through Siri, if its developers add the integration.
There's no timeframe for the watchOS 3.2 update, nor are there any beta releases yet. Apple will potentially add more features to it over the course of its development.
ALSO READ