The iPhone 7's Lighting EarPods have a strange volume control glitch, Apple promises fix
32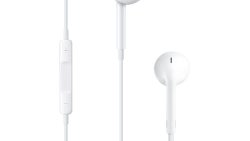 iPhone 7 users have reported a glitch with the Lighting-connected EarPods that come bundled with the handset. Apple has confirmed the problem is indeed present and will be fixed in an upcoming software update.
The issue manifests itself after the users leaves the earbuds plugged into the iPhone 7's Lighting port for around five minutes. While the music keeps playing, the volume controls on the EarPods stop working.
The glitch doesn't occur at all times, it appears to be triggered randomly. A temporary fix for the problem is unplugging the EarPods and plugging them in again.
There's no information whether the glitch is present with other Lighting earphones, or whether it affects 3.5mm jack models plugged into the supplied Lighting-to-3.5mm jack converter.
Is anyone around here experiencing this issue? Tell us in the comments section below. Again, Apple has confirmed that the problem is to be fixed in an upcoming software update.