The ZTE Grand S EXT comes in a unibody made of molded plastic and metal, check out the first renders
6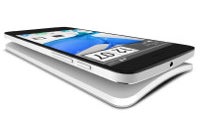 A new ZTE smartphone has been spotted on the Red-Dot 21 design directory, and it's apparently set to reinvigorate the Chinese company's Grand line of devices. What's interesting about the ZTE Grand S EXT, apart from the unfortunate name, is that it will apparently come in a unibody built using Nano Molding Technology (NMT).
The NMT tech will see to it that the Grand S EXT arrives with a body made of plastic and metal molded together. According to the poorly-worded description found in the database, this combination is considerably cheaper to produce than a fully-metal smartphone, while still retaining a premium, metallic feel in the hand.
The listing does also make a reference to a wireless charging dock, but we're unsure of whether we can expect an equally intriguing. hardware bundle to power the handset. It is currently unknown when we can expect to see the Grand S EXT make it to the stage, though we do have to admit that the idea of molding plastic with metal sounds like an interesting compromise that might just resonate well with consumers who are tired of lugging around slabs of glossy polycarbonate.