UPDATED: The Sony Ericsson Robyn is a minuature version of the XPERIA X10?
1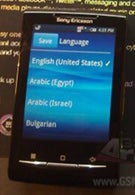 After the
unofficial appearance of the Sony Ericsson Kunna U8i
, a picture of yet unannounced handset of the same manufacturer has surfaced on the Internet. According to the sketchy details, the cell phone is called the
Robyn
and is expected to run Android. The leaked image reveals the compact Sony Ericsson Robyn is a chip of the old block and closely resembles the XPERIA
X10
, save the overall size. Unfortunately, nothing is mentioned on the technical specifications of the device. We still don´t have a clue whether or not this is a picture of a real handset or the image is, simply put, faked. We hope the Robyn is a real device though, because it does look pretty likeable and quite more compact alongside of the larger XPERIA X10 (take a look at out preview of the X10 available
here
). If you happen to have further information on the intriguing matter, please do share what you know with us at
tips@phonearena.com
.
*UPDATE*:
A new picture of Sony Ericsson Robyn reveals panels in various colors. It's quite probable that the phone will be offered in multiple color variants but the possibility of quick apperance changing is not excluded, similarly to Samsung Corby S3650, for example. (source:
AllAbouthPhones
(translated))
Sony Ericsson Robyn Preliminary Specifications